Item# 26 X12378
Model:
T755L5
Manufacturer:
Chamberlain (LiftMaster)
Description:
T755L5 LOGIC 5 TROLLEY
List Price:
$1182.00
Log-in for Dealer Price
Details
3/4 HP 575 volts 3 phase with solenoid brake
Logic 5 board with integral Security 2.0 radio receiver
CPSU commercial photoeyes included NEMA 4 optional.
12' rail included rails available up to 24 feet high
Mechanical and solenoid brake standard
Industrial ball bearings on output shaft
5L V-Belt #41 drive chain adjustable friction clutch
Emergency disconnect for manual operation
Door speed approximately 8" to 12" per second
Shipping weight 130 LBS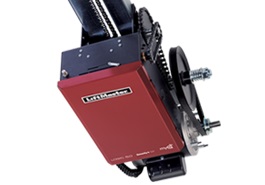 Home | about dek canada | technical info | create a login | apply for credit | Français | contact us
Copyright © 2017 - DEK Canada. All Rights Reserved.